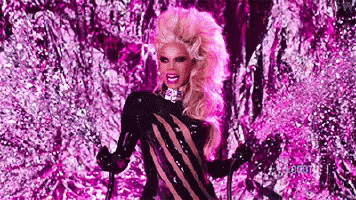 Silence! The queen of queens is back back back back back again and snatching wigs with the spanking new title track from her upcoming album, "American." According to Mama Ru, her new material (available for pre-order on iTunes!) will be Ruleased this Friday, the same day as the grand opening of RuPaul's Drag Race Season 9. Gotta love them marketing moves henny! The song serves classic RuPaul bleeps and blops with lyrics that remind us that in the clurb, we all fam. "Everybody came here wantin' to be free" she says, speaking for the thousands of immigrant lives that are here now and have come before us. "Stand up for yourself, we've just begun to fight" she cries, urging us to wake up and join the Ruvolution. Give it a listen below!
RuPaul's Drag Race Season 9 is expected to be YUGE. The show has now moved to VH1's Friday line-up, and Ru won herself an Emmy last year for an outstanding performance as the hostess with the mostesst. If you happen to live in the NYC area, you are hereby cordially invited to our very own premiere viewing party at Lot 45 Bushwick (Doors 7 PM | $5 Cover).
And in other Rulated news, J.J. Abrams is reportedly developing a new dramedy series inspired by RuPaul's life. We know, we are gagged too. More details can be found via Gay Times UK. Even Mama Ru retweeted it, so it's probably legit.